UFO high bay fixture
Customizing Your LumeGen UFO High Bay Fixtures with Motion Sensors
UFO High Bay light fixtures are durable, lightweight, and perfect for commercial spaces. Select LumeGen models come with built in motion sensors with an optional remote that offers complete control for the user.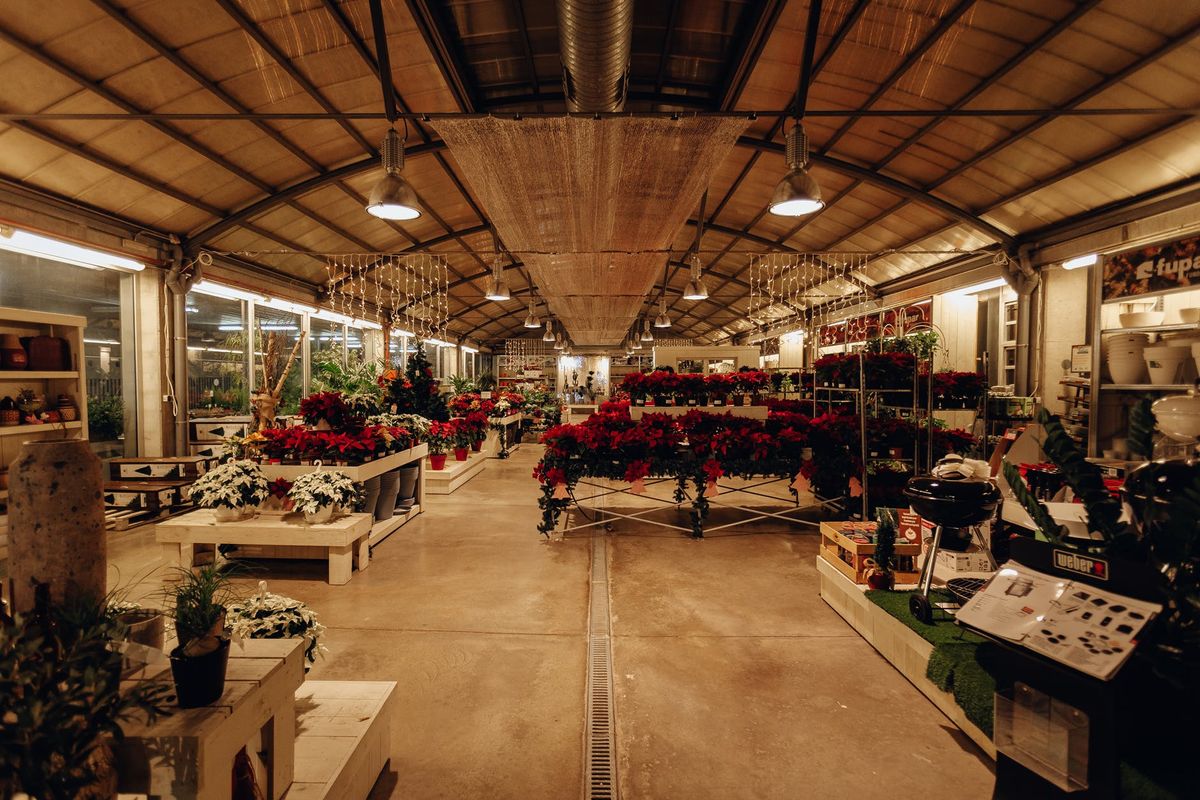 Looking for a modern LED light fixture for a spacious commercial setting? Take a look at our UFO High Bay light fixtures and the available features to really make your space shine!
What is a UFO High Bay Fixture?
UFO High Bay fixtures provide a sleek unique appearance while providing a bright light that is perfect for commercial spaces. These light fixtures are excellent for spacious areas like factories and warehouses. They also offer durability, as they are are dust and water-tight and can be used in damp locations. Some may be sling or pendant mounted.
LumeGen UFO High Bay lights come with awesome features. They offer the benefits of LED lighting as opposed to traditional metal halide lights. They emit a crisp bright light, and they are mercury-free and better for the environment. These lights are superiorly energy efficient, producing more lumens while consuming less energy, ultimately saving on your electric bill. And with a lifespan of 50,000 hours, you can say goodbye to changing bulbs! Select models are able to be dimmed between 0-10 volts, allowing you to choose the appropriate amount of light for your space. LumeGen offers optional optical lenses and aluminum reflectors for some models, as well. Their large 100+ degree beam angles (depending on the model) allow for excellent light dispersion. Also, enjoy a 5 year warranty on most LumeGen models!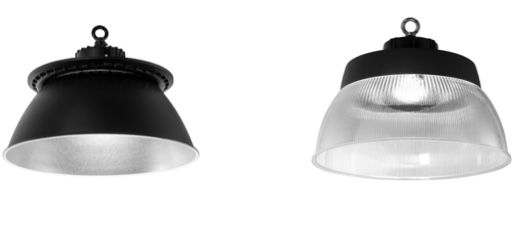 Customizing your built-in motion sensors
Another unique feature available in select LumeGen UFO High Bay fixtures, like this model, is the inclusion of a motion sensor. No more flipping light switches! When motion is detected, the lights will automatically turn on. After a certain length of inactivity, the lights will then dim and eventually turn off.
LumeGen offers an optional remote that allows you to be in complete control of your UFO High Bay lights. Here are the various settings that you are able to personalize:
Detection range: Manually select the detection range, including settings of 25, 50, 75, and 100%. As you increase the detection range, the light will be triggered on with motion further and further away from the fixture.
Hold time: How long your light fixture will remain on even when no motion is detected. Choose from settings of 5 seconds up to 30 minutes.
Stand-by dimming level: When the light does not detect motion, they will automatically dim, providing low light while saving more on your electric bill. Manually select a dimming level from 10% to 50%.
Stand-by period: After you select a dimming level, you can choose how long your lights will remain dimmed before turning off. Choose from a range of 0 seconds to 30 minutes. You may also select "infinite," meaning the lights will stay dimmed and not turn off automatically if you prefer constant lighting in your space.
Daylight sensor: This is a smart feature that will also save on your electric bill! Manually set a lux value within the range of 2 to 120 lux. This sensor determines the amount of ambient light in your space, and will turn the lights on if the ambient light has a lower lux value than your preprogrammed setting. However, if the ambient light is higher than the preprogrammed lux value, the lights will stay off even if motion is detected. You may also disable the daylight sensor if desired.
Scene mode: These are the yellow buttons labeled SC1 through SC4. These buttons represent four different preprogrammed settings. You can view these settings in the table below. These options provide a faster option than programming each individual setting on your own.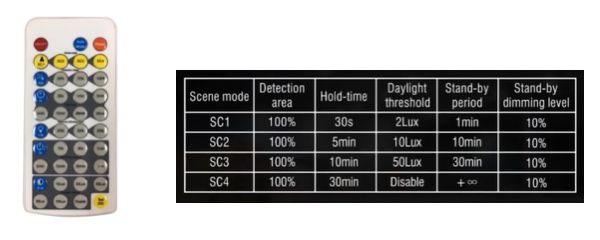 More information on these products and how they work can be found on the product pages, as well as this remote guide and sensor guide.
LumeGen UFO High Bay light fixtures are durable yet lightweight, high voltage fixtures that offer versatility and complete control for the user. With intelligent options including motion detection and daylight sensors, they will save you money and produce an excellent lighting environment!
---
New to LED lighting? Visit our helpful resources to learn more:
Learning Center -  A convenient hub of tips, blogs, and history regarding all things lighting!
Lighting Terminology - A glossary of common terms to turn any beginner into a LED light pro!
LED Informative Videos - Brief informative videos on LED light topics
Have questions or concerns? Contact us toll free at 1-877-734-2458.